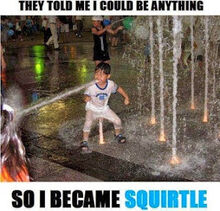 ACK! YOU FOUND ME! HOW COULD THIS HAPPEN!
…Meh. Hi.
Glad to see someone wants to wander around enough to check out my page…if only there was something worth reading here…well, I guess there's the Squirtle pic…makes me laugh every time.
Anyways, I play the game for this Wiki, along with Smash Bros., Project Mirai DX, SAO Lost Song, and lots of Pakchimans(Pokemon). My favorite Heroine would be a question I would answer were I able to pin down just one. I like Fuuko because she's normal, Serina because her attitude is hilarious, and Torri because she's SO ADORABLY INNOCENT ahem. Anyways, yeah, I like them, but really Chloe's the only one I don't like, so that's hardly an answerable question. My favorite type of Star Child Class is the Magic Knight(Currently working on getting a level 50 Magic Knight for each Heroine), but hey, Ninja's sweet too(Named one Saizo for all you Fates fans). Originally I came here to help people find stuff, but now it's kind of looking like I'm the last one left and even that's only because Danganronpa Abridged reminded me this Wikia exists and needs all kinds of help soooo...yeah. I guess I'm in charge?
Community content is available under
CC-BY-SA
unless otherwise noted.